Mercury Towers: luxury and design facilities in Malta
The original structure dating back to 1903 preserves two underground vaults created during the Cold War within its boundary and looks towards the future thanks to a project designed by the Iraqi architect Zaha Hadid, who passed away in 2016: Mercury House is considered his architectural testament. After being abandoned for twenty years, the area is now undergoing redevelopment: construction sites, thanks also to the steel supplied by the Pittini Group, are underway.
The renovation project involves the construction of a complex consisting of a hotel and two towers at different heights. The boldest construction will be a 31-storey tower, which will "rotate" as you go up, changing its silhouette when viewed from different directions around Paceville: Mercury Tower, this is its name, will be built on a total area of 70,000 square metres and will develop over 24,500 square meters. The two towers will have 40 floors, 30 for residential purposes and the 10 lower floors for commercial activities and offices; the other 25 floors will include a 5,000 square metre boutique hotel and 17 floors for commercial activities and offices.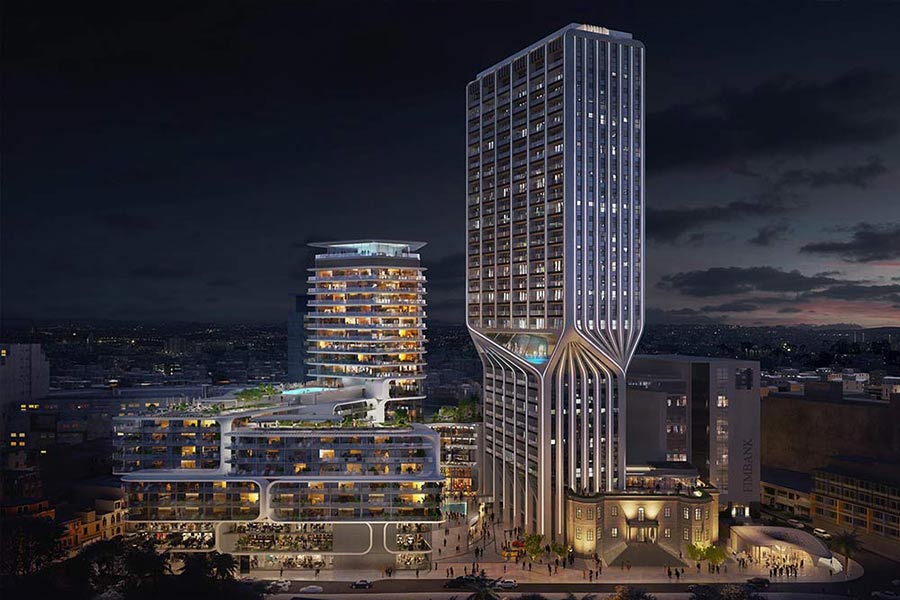 Luxury buildings built with Pittini steel
The steel core of these buildings will exceed a weight of 5,000 tons, supplied by the Pittini Group to the builder JM Vassallo Vibro Blocks Ltd in the form of round bars, rolls, meshes and lattice girders to guarantee absolute anti-seismic safety, which is even more essential in a construction of this size. The supply of the material will cover the entire project with immediate availability and according to the needs of the construction site.
A fully integrated project with the city
Mercury Tower is an expression of luxury and modern design, the volumes are stacked vertically while the towers incorporate a realignment that expresses the different functional programmes of the interior. The project blends in with the city both at ground level, becoming part of the city fabric, as well as in height, enhancing the coastal landscape and the surrounding nature. A square next to the towers will host an open-air theatre that will be flanked by a café featuring a sliding roof and glass façades, commercial amenities and shops of various kinds.
In this way, the project will respond to the main urban challenges of Paceville: the creation of new public spaces and services for residents and visitors of the island.
Once again, PITTINI products have been chosen for an important piece of engineering work on the island of Malta, which has now become a consolidated market for the Group. The guarantee of promptly offering a quality product and constant reliability in relationships have allowed the Pittini Group to become a historic partner for JM Vassallo.