Transitioning to LED lighting
Steel production and transformation processes are characterised by an enormous expenditure of energy, which makes environmental issues a priority for the Pittini Group. Our Energy Department is always committed to the continuous improvement of energy performance and reduction of consumption, targeting the maximum efficiency of plants and infrastructures in the Group's various locations.
LED relamping projects
Among the relamping projects undertaken in the last period is the transition from standard lamps to LED lighting, a technology that offers excellent illumination at reduced energy costs. At Acciaierie di Verona, 380 lighting fixtures have been installed in the rolling mill and scrap yard. At Ferriere Nord in Osoppo, more than 700 new units illuminate the wire rod rolling mill, the new metallurgy shop, the scrapyard, and the Jumbo® coil warehouse. Finally, at SIAT, the Group's steel rolling and drawing plant, 200 low energy consumption lamps have also been installed.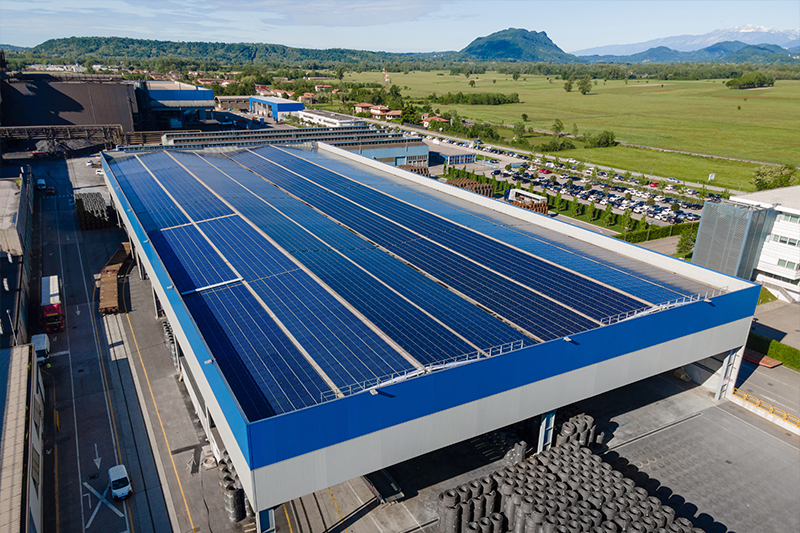 Savings through relamping
This relamping project impacts energy consumption by saving an average of 1,700,000 kWh per year. This is enough to meet the energy demands of 630 homes for 3-4 people per year. However, the relamping activity does not stop here: in the near future, the conversion to LED will involve further areas of the Verona and Osoppo plants.
Enhanced energy management with photovoltaic panels
Ferriere Nord has recently installed new photovoltaic systems on the Jumbo® warehouse and the roof of the steelworks building, with a total nominal power of 188kW. These are in addition to existing systems, which in the last 10 years have contributed to savings of four million kWh, avoiding the emission of 1,300,000 kg of CO2 into the atmosphere.